Neil & Megan – This was a fun shoot! The Landmark Center in St. Paul was special to Neil and Megan. We knew that we had to create a piece of artwork for them that would capture the beauty of the architecture as well as the beautiful Couple.
---
Hayley & Ryan – We loved working with this couple.
Hayley's hair color was perfect to work with the fall colors!
---
Jake & Caitlin – These two had the perfect outfits to really go with the feel and look of the fall colors. We love when couples choose their outfits to really fit in with the scene!
---
Dan & Nikki – These two really really chose some great locations. This was was off of 7 bridges road in Duluth, MN. It made for some amazing images such as this one!
---
Dan & Serena – We love when the locations our clients choose for their shoots are personal to them. This was taken at Dan and Serena's house that sits on a lake. We had the fog roll in just in time to create an amazing piece of art for them!
---
Ian & Dani – We love shooting at destinations such as on the shores of Lake Superior in Duluth, MN. We had a great time creating this piece of art for Ian & Dani.
---
Nick & Becca – We love to incorporate architecture into our artwork when we are creating something special for our clients. Becca and Nick look amazing in their images.
---
Justin & Michaela – These two love birds were fun to capture. They were so natural when giving each other hugs or kisses. You could really see the love!
---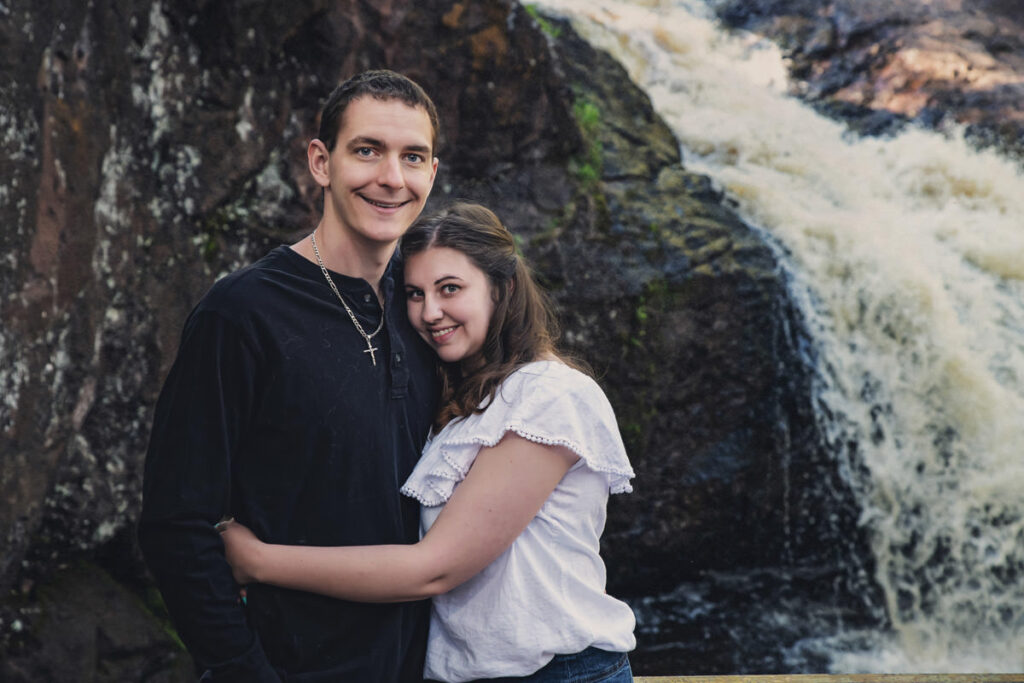 Derek & Rachel – Minnesota has so many different scenic locations to create pieces of artwork for our clients. Some of our favorite images such as this one are in front of waterfalls.
---
Spencer & Rachelle – A sense of humor is a great thing to have in a relationship. Spencer & Rachelle were one of the funniest couples we have had the pleasure to take pictures of. They were so animated during their photoshoot. It made for a fun day.